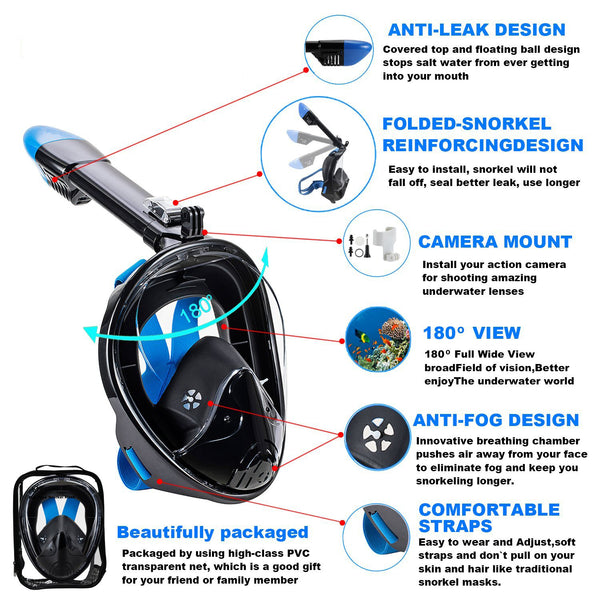 FREE AUS POST SHIPPING!!!
We've teamed up with the best of the best when it comes to manufacturing. We now have the Official Reef Mask in multiple colours and sizes.
Whether you're looking for one for yourself or one for your kids, we have a size for you.
We're based in AUSTRALIA which means you'll get your mask Super Fast!
Shop Now

HELP US SAVE THE GREAT BARRIER REEF!
Reef Mask has pledged to donate 5% of all net profit to The Great Barrier Reef Foundation to help regenerate and restore the Great Barrier Reef.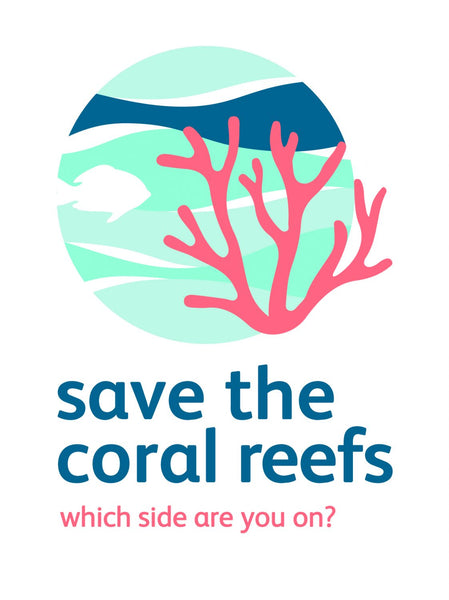 Australia's Full Face Snorkel Mask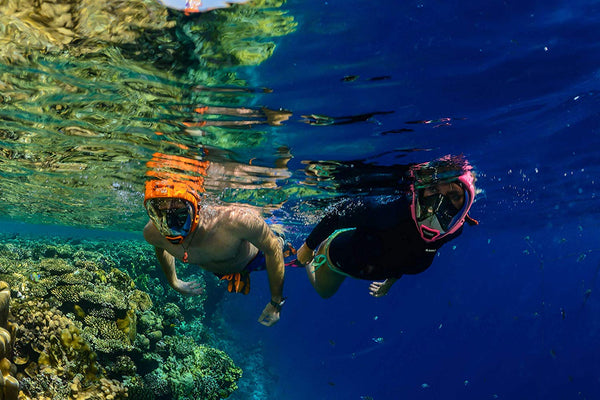 Find the correct size?
Often, many Aussies are concerned that they will purchase the wrong sized Reef Mask and will face issues such as leaking and fogging; this deters them from taking the plunge and buying full face goggles. We can't blame you, and no one enjoys waiting patiently for their Reef Mask only to find out it doesn't fit correctly, devasting!
As Reef Mask is Australias original and most trusted smart snorkel, we have decided to ensure you have all the correct information when it comes to choosing the right size face mask. With Australian having the best summer's we don't want anyone missing out on the snorkelling fun due to an issue like the wrong size! luckily it's super easy to measure and get the correct size, but before you hit the water you need to ask your self the question
Why do I need a properly fitting snorkel mask?
Full face masks designed to create tiny pockets around your mouth, eyes and nose, and this is what enables you to both see and breathe under the ocean. Reef Masks design is comfortable when sitting around your face. Gives you the freedom to go snorkelling for hours without any neck pain or jaw fatigue.
If your Reef Mask is loose
Just like the traditional snorkel goggles, you need them to fit tightly across your face and head to ensure they don't slip off when in the ocean. If your whole face snorkel is not tightened correctly to your head and lose you will have issues like water leaks, this is not only annoying but can also be dangers when out in the ocean.
Its the main priority that your full face mask isn't leaking water, and you can get out in the water and explore the ocean!
When your full-face mask is to tight
You don't want your easybreath mask to be loose but be wary if its to tight! This can leads to several issues such as migraines, headaches and bruises. If you use a tight snorkel mask, often it can lead to other problems, overall its something you want to avoid. Learn more about face snorkel dangers on our blog.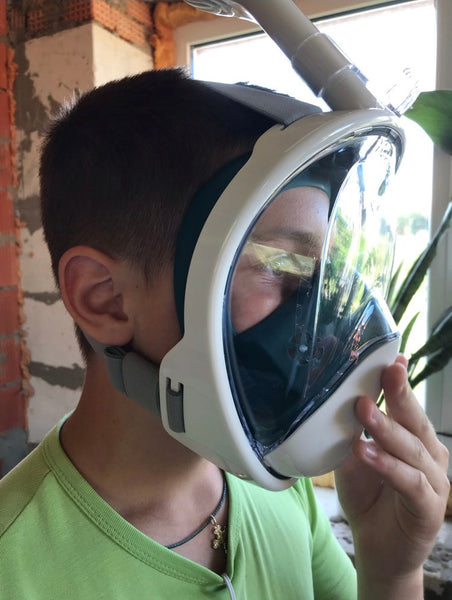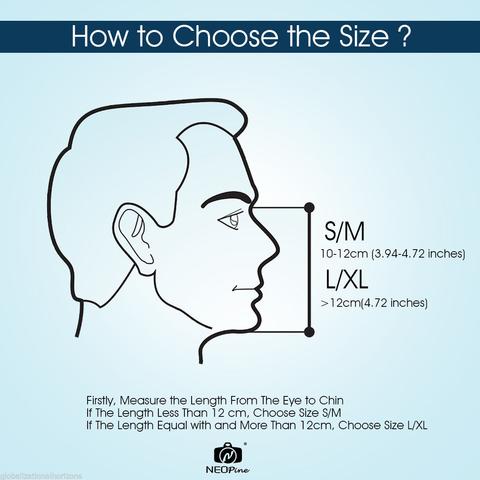 How do you measure your head for a full face mask?
Measuring your head and finding the correct face snorkel mask isn't as hard or intimidating as you might think! It's super easy. Below are simple steps to find your head size.
Step 1. take a velvet tape measure and measure the length between your nose bridge (this is the top between your eye) and the chin bottom. Please note, don't count over your nose but as a straight line.
Step 2. Find that centimetre value
Once you have your measurements in centimetres its time to evaluate and find your full face snorkel size
step 3. Find your size.
12 cm or less go for the S/M size12 cm or more then go for the L/XL size
Breathing with a full face snorkel mask
You are probably wondering what's the difference between a traditional snorkel vs a face mask when it comes to breathing? Well, when you use a face mask you breathe as usual, like your on dry land. This medium isn't the case with the old traditional style of the snorkel.
A face snorkel covers your entire face so you can safely breathe through both your mouth and nose. Reef Masks designed so you can live in a more relaxed, comfortable, ordinary matter. It's so easy kids, and people with anxiety can hit the water and snorkel. A significant difference between full face mask's an old-style snorkel is the tube style. Unlike traditional snorkels that have a separate mouthpiece, the Reef Mask has a tube that connected to the top of the mask. This tube easily snaps down for easy storage and allows you actually to smile for photos underwater, oh and did we mention the go pro connection all our boxes have? Full face goggles are great but there are some people that shouldnt snorkel, learn more on our blog.
Is Choking on Sea Water a Possibility 
Reef Mask whole face snorkel mask's are designed to eliminate seawater getting into your tube, how you might ask? That's through an anti-leak seal surrounding the mask. In saying that we are not recommending trying to deep dive or stay underwater for long periods, but it will help your breathing enough to emerge from the water. Learn more about how long you can breathe underwater with a smart snorkel on our blog.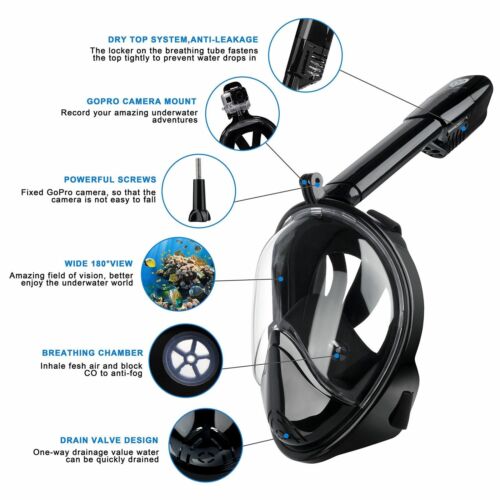 Taking Care of Your Full Face Snorkel Mask
Suppose you have purchased your Reef Full Face Mask your in for a real treat! The 180-degree view will allow you to explore the ocean to the fullest. It's essential for longevity to keep your entire full face snorkel mask in good condition, this means taking proper care of it.
Fortunately, Reef Masks don't need a lot of care and maintenance to stay in top condition, a little bit of love now and then will ensure your whole full face snorkel mask lasts for years. Below are some of the leading maintenance tips for all types of snorkel lovers.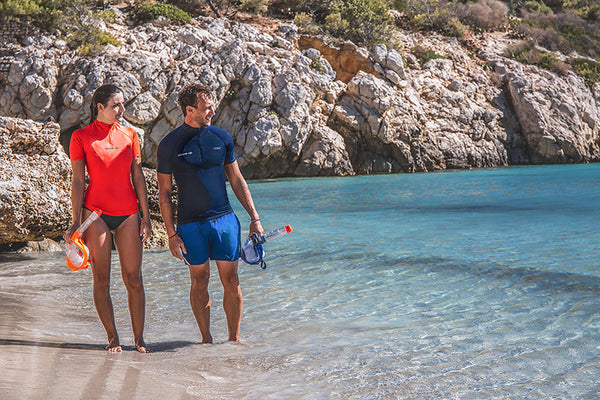 Maintain Your Snorkel Mask
Reef Mask's designed to withstand the ocean sand and rough handling. Means even for the more lazy type the Reef Mask is super easy to maintain.
The lazy way
Be honest, if your not the type of person who will spend 10 minutes cleaning and rinsing your easybreath snorkel then follow these tips. Firstly, glance over your Reef Mask and ensure there is no sand covering the mask, then give it a quick wash under some fresh water, a few wipes with a clean towel and that's it! The job is done! Make sure you place your full face mask back in its bag and away somewhere safe. 
The proper way
If you are willing to spend a bit more time and effort to ensure your smart snorkel is in top condition, then these instructions are for you, be warned it requires a little TLC. The first step is to inspect your Reef Mask and check for sand, regardless if you can see any or not take a small amount of soap ( half a teaspoon) place in a clean rag under hot water and scrub! When we say scrub we mean it, get nice and deep in every gap. Once done leave out to naturally drip dry, then place safely away in its bag.
The Summer Season Check
We call this the summer checkup, but we recommend doing it three times throughout the summer/spring months. Can vary depending on how much you are using your face snorkel mask if you are in the water maybe ever month d this checkup.
To ensure your face snorkel mask last year for years and years, you will want to take the time to inspect your Reef Mask and make sure there are no scratches or damage from sand grains.
1. First check the breathing vents of your snorkel mask, ensure there are no blocks or clogging from sand or other substances. Use a toothpick or toothbrush to clean the ducts!
2. Ensure the tube has no dirt or sand clogging it up, take a toothbrush to achieve this
3. Third step, inspect the padding around the mask to ensure there is no damage; this can lead to leaking and other issues.
4. Ensure the lens has no scratches or knicks; this can lead to visual issues when your snorkelling.
5. If you have any accessories such as nose clips, fins, go pro or swimming cap. Summer is the time to make sure no damage and they're all up to scratch.
If summer has just hit and you are pulling out your face snorkel mask for the first time in a while, these above steps are critical to ensure you have a safe and enjoyable time out in the ocean. You don't want to get out in the water only to find out your vent s blocked or your lens is scratched.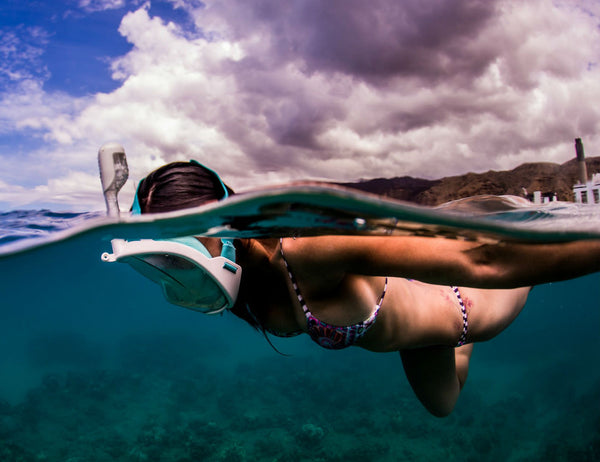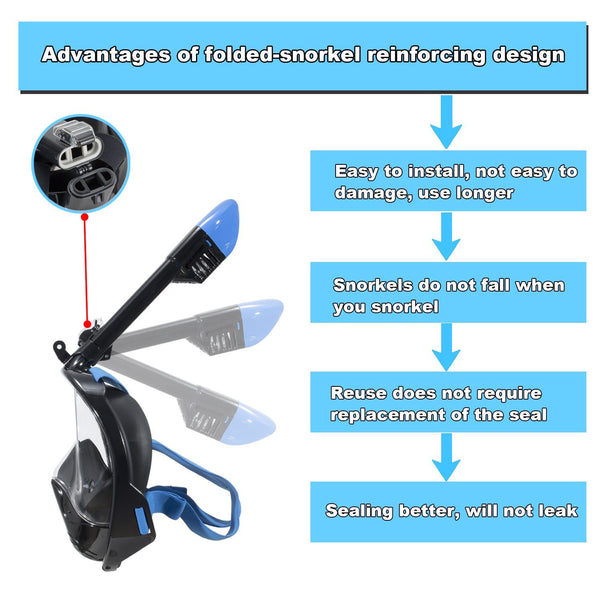 Storge is a Priority
As discussed above, it's super important to do regular check-ups on your Reef Mask, but just as necessary is the storage of your snorkel. If you want longevity with your full face mask, then you need to ensure you don't just toss it somewhere in the house.
Place your Reef Mask in its waterproof bag and put it somewhere safe and easy to remember. Often we see snorkel masks end up in the garage where dust builds up in the vent and even worst lose the easybreath snorkel all together. Always ensure your Reef Mask is dry before you place it back in the bag for storage, failing to do so can lead to an unpleasant damp experience when you take it out of your pocket next.
Overall our Reef Masks are Aussie and built to be tough and easy to look after. In saying that follow the tips above on storage and maintenance and you and your family will be enjoying your Reef Mask for years.
Can kids Wear Full-Face Snorkels?
The design of the face snorkel has made it an instant favorite for a lot of snorkelers. The popularity and influx of newer brands of full-face snorkels are generating some level of misgivings about their safety for kids' use.
So let's get to the question. Can kids wear a full-face snorkel? The answer is an emphatic YES! The safety of kids wearing full-face snorkels is not any less if they were wearing traditional snorkels.
Why are full-face snorkels safe for your kids?
The design of full-face snorkels remains a source of concern for some people as regards its safety. However, full-face snorkels are intentionally designed to make them the ideal snorkeling gear for kids. Let us take a look at some reasons why full-face snorkels are suitable for your kids.
#1. They are made from safe, top-quality materials.
The snorkeling industry is filled with alot of substandard snorkels made from cheap and in some cases toxic materials. Our full-face snorkels are made from high-quality materials that are safe for use.
#2. Easy to use
Against some widely held misconceptions, full-face snorkels are quite easy to use as they allow kids to breathe through both their nose and mouth.  Kids can better enjoy their snorkeling experience by wearing full-face snorkels.
#3. Stylish design
Full-face snorkels come in stylish and innovative designs that kids love. The alien-like and spacey look of full-face snorkels has made them very popular among kids who love snorkeling with style.
How do whole face snorkels protect your kids while having a swim
Full face goggles come with a dry top snorkel system in the tube. Dry top snorkels are designed using a ball float system that helps to prevent water from penetrating the snorkel. Once you lower your head into the water and the end of the snorkel is immersed, the float rises and blocks the tube thereby preventing water from entering in.
In a situation when a small amount of water manages to get inside the snorkel, the easybreath mask drains out water through a valve at the bottom of your chin immediately you raise your head above the water level. Unlike some traditional face snorkels, you do not need to blow water from the snorkel to breathe normally again after resurfacing from a dive. For kids, this feature is quite significant, as it enhances their snorkeling experience.
What to consider when buying a smart snorkel for kids
Ensure you buy the correct size.
A common mistake some parents make is that they buy large full-face snorkels for their kids with the belief they would fit better as they grow older. full-face snorkels would leak if they are not accurately sized.  You can look up the size charts of the full-face snorkel before buying it.
Buy snorkels with a flat viewing section
We recommend that you go for masks with a flat viewing section as it does not impair your view in the water.